Dates of Operation:
The Brooks Aqueduct Information Kiosk is open May 15 through Labour Day from 10 am to 6 pm daily.
Location:
The Brooks Aqueduct and the Historic Site's Information Kiosk are located 3 km south of the Highway #1 east of the Town of Brooks.
Click on map to get a larger picture!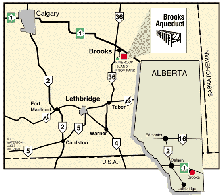 Admission Fees:
All admissions will be used to preserve the site and to enhance our viitor's experience.
Adult: $2.00
Youth: $1.50 (ages 7 - 17)
Senior: $1.50 (ages 65 and over)
Family: $5.00 (2 adults and accompanying children ages 7 - 17)
Children under seven free of charge
Tour and Discount Rates:
Tour Group of 15 or more - 30% discount
High Volume Tour Operators (4 or more tours per year) - 45% discount
For Information Questions, or Comments:
e-mail address is aqueduct@eid.awinc.com
Winter: Phone Remington-Alberta Carriage Centre (403)653-5139
Summer: Phone Information Kiosk at (403)362-4451